Cape Cod Community College goes green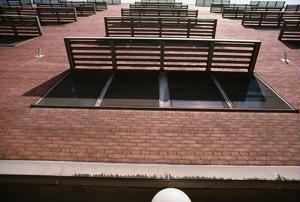 Cape Cod Community College in Barnstable, Massachusetts, has taken some drastic steps to go green. The Associated Press reported a solar farm, photovoltaic arrays and a wind energy project have been installed over the past half year at the campus and could help the school save approximately $100,000 per year in energy bills.
"The goal here is twofold: Number one, we want to reduce our use of fossil fuels," said Dixie Norris, college vice president of finance and administration, according to the news source. "Number two, as much if not more, we need to reduce the cost of our electricity because it keeps going up and takes away from what we can do for our students."
These projects include 660 kilowatts of solar power and a five-kilowatt wind energy device. The installations are located on the land and roofs of the campus, the AP said. One unique location is where the wind energy generator will be placed, going on top of a stairwell in the college's gymnasium. This will work in concert with solar panels mounted on the gym, thereby saving the school more money.
This is a great start for
green energy
at the school, but it may still have along way to go before reaching the level of the No. 1 green college in America, which according to The Daily Green in Maine's College of the Atlantic. The Daily Green said the campus is committed to green building, land conservation and the elimination of toxins.